Senate will vote to repeal Obamacare without replacement, after new healthcare bill stumbles
Republican Mitch McConnell calls for vote on clean repeal, after senators Mike Lee and Jerry Moran come out against latest effort to replace Obamacare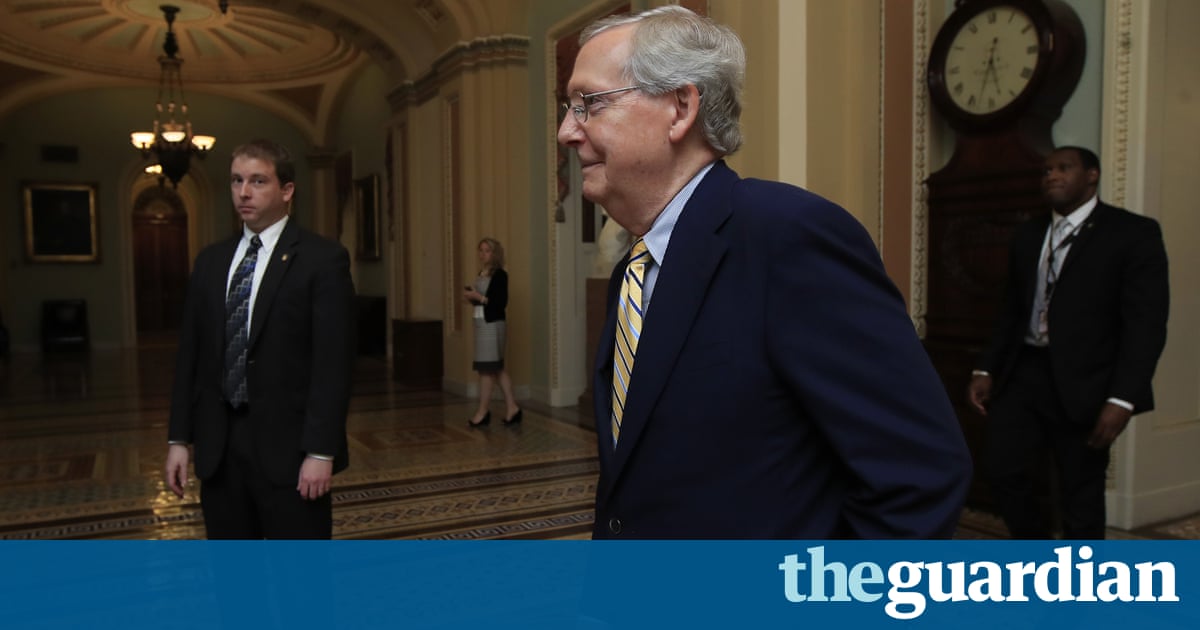 Senate majority leader Mitch McConnell has announced that the Senate will vote on a clean repeal of Obamacare without any replacement, after two Republican senators broke ranks to torpedo the current Senate healthcare bill.
Senators Mike Lee of Utah and Jerry Moran of Kansas came out on Monday night in opposition to McConnells Better Care Reconciliation Act (BCRA), the Senate version of the controversial healthcare reform bill that passed the House in May.
Senate Republicans hold a bare 52-48 majority in the Senate and two members of the GOP caucus, the moderate Susan Collins of Maine and the libertarian Rand Paul of Kentucky, already opposed the bill, along with all 48 Democrats. The announcement from Moran and Lee made it impossible for Republicans to muster the 50 votes needed to bring the BCRA bill to the floor.
Instead, McConnell announced late on Monday night that the Senate would vote on a bill to simply repeal Obamacare without any replacement in the coming days.
The Kentucky Republican said in a statement: Regretfully, it is now apparent that the effort to repeal and immediately replace the failure of Obamacare will not be successful.
He added that in the coming days the Senate would vote on repealing the Affordable Care Act with a two-year-delay. The Senate passed a similar bill in 2015, which was promptly vetoed by Barack Obama.
McConnells plan echoes a statement made by Donald Trump in a tweet on Monday night, in which the president urged a repeal of Obamacare with any replacement to come in the future.
Republicans should just REPEAL failing ObamaCare now & work on a new Healthcare Plan that will start from a clean slate. Dems will join in! Trump wrote.
The announcement from Lee and Moran came as Trump was having dinner at the White House with a number of senators who support the bill. Trump talked to several conservatives on the phone over the weekend, including Lee, in an attempt to win their support.
In a tweet, Lee noted that he could not support this version of the bill. Moran used the same language on Twitter. Both voted for a clean repeal of the Affordable Care Act in 2015, albeit with the expectation that it would be vetoed by Obama and not become law.
In an op-ed in The Resurgent, a conservative online publication, Lee cited the fact that the current bill did not incorporate an amendment that he introduced with Ted Cruz to allow insurance companies to offer bare-bones insurance plans. In Lees argument, the mandate that insurance companies cover pre-existing conditions resulted in a hidden tax which meant that middle-class families are being forced to pay billions in higher health insurance premiums to help those with pre-existing conditions.
In a statement, Moran took a slightly different tack. He said: There are serious problems with Obamacare, and my goal remains what it has been for a long time: to repeal and replace it. This closed-door process has yielded the BCRA, which fails to repeal the Affordable Care Act or address healthcares rising costs. The Kansas Republican also warned that the current legislation leave[s] the federal government in control of everyday healthcare decisions which Moran said made it more likely that our healthcare system will devolve into a single-payer system, which would require a massive federal spending increase.
The announcement came shortly after a Senate vote on the healthcare bill was delayed due to the hospitalization of John McCain. The Arizona senator had a blood clot removed from above his left eye on Friday night and was unable to fly to Washington as a result. On Saturday, McConnell said the Senate would defer consideration of the bill while McCain recovered. A number of other moderate Republican senators have yet to take positions on the bill, most notably Dean Heller of Nevada.
Although a repeal of Obamacare without providing for a immediate replacement has long been popular with conservatives, many other Republicans have been skeptical of this approach because of the potential political cost.
In contrast, McCain said in a statement that Republicans should start the process of passing a health care bill over. Congress must now return to regular order [and] hold hearings, said the Arizona Republican.
In a statement, the Senate Democratic leader, Chuck Schumer, said: This second failure of Trumpcare is proof positive that the core of this bill is unworkable.
He added: Rather than repeating the same failed, partisan process yet again, Republicans should start from scratch and work with Democrats on a bill that lowers premiums, provides long-term stability to the markets and improves our healthcare system.
Lauren Gambino contributed reporting
Read more: https://www.theguardian.com/us-news/2017/jul/17/republican-health-bill-senators-oppose-vote