Millennial influencers who are the new stars of web advertising
Beauty vloggers and cult celebrities are being courted by luxury brands
Seven years ago, Chiara Ferragni was a fledgling 23-year-old fashion blogger, studying law at university in Milan. She never finished her degree, but now lives in a $3.5m Los Angeles mansion packed with antiques, and spends her days travelling the world in midriff-revealing tops, Gucci sweatshirts, cut-off jeans and a collection of Louis Vuitton. How do we know this?
Every day, the Blonde Salad shares images of her gilded lifestyle with her 9.6 million followers on Instagram, making her one of the cult celebrities of the social media world. Unlike Taylor Swift, Beyonc et al, who have all made their names elsewhere and maintain fanbases on the photo-sharing platform, Ferragni has found fame and fortune solely by publishing photographs of herself wearing a variety of designer ensembles in a range of glamorous locations. Now worth a reputed $12m, with a line of branded shoes selling at up to $500 a pair, and a contract with Pantene as a global ambassador, Ferragni is a role model to a generation of digital natives who have established a viable career as social media influencers.
On her 30th birthday earlier this month, her boyfriend, Italian rapper Fedez, proposed on stage in Verona, singing a song dedicated to her at a concert broadcast live to their home nation. Almost one million fans liked the Instagram video of the moment. That same day, almost half a million clicked the heart symbol below an image of her in a black mini dress, featuring the hashtag #ysl, while 700,000 followers liked another image Ferragni shared, showing her next to a vast 30th birthday cake emblazoned with the Leading Hotels of the World logo, with the hashtags #leadinghotelsoftheworld, #LHWtraveler and #kempinskivenice.
To those unfamiliar with the machinations of social media, it is highly likely Ferragni had a commercial arrangement with these luxury brands, keen to tap into an audience that wants to emulate her lifestyle. She is not alone in utilising her position as a social media star with a loyal and highly engaged following.
Earlier this month, 17-year-old Amanda Steele shared images of herself on the red carpet at the Cannes film festival, hanging out with Hollywood A-listers Jake Gyllenhaal and Tilda Swinton. The YouTube beauty vlogger, who shares make-up tips under the MakeupbyMandy24 handle, was flown out to the French Riviera, dressed and made up, and given tickets to the premiere of Okja courtesy of Christian Dior all in return for a caption shared with her 2.8 million followers that read: Thank you sooooo much @diormakeup for treating me like a princess!!
In just a few years, the power of blogs and platforms such as Instagram has created a new marketing genre that has seen brands investing heavily in collaborations with the big names in the online space. Beca Alexander, founder and president of the social media casting and management agency Socialyte Collective, represents about 100 influencers, each with between 30,000 and 2 million followers.
One of our top influencers did about $1m last year and the average for those on our books is around $200,000 a year, says the digital entrepreneur from her New York office.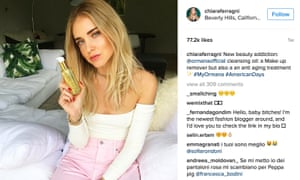 Read more: https://www.theguardian.com/fashion/2017/may/27/millenial-influencers-new-stars-web-advertising-marketing-luxury-brands