Man, 95, who bludgeoned wife in 'mercy killing' bid gets suspended sentence
Judge tells Denver Beddows he will not be jailed so as not to prolong his agony after acceding to wifes requests to take her life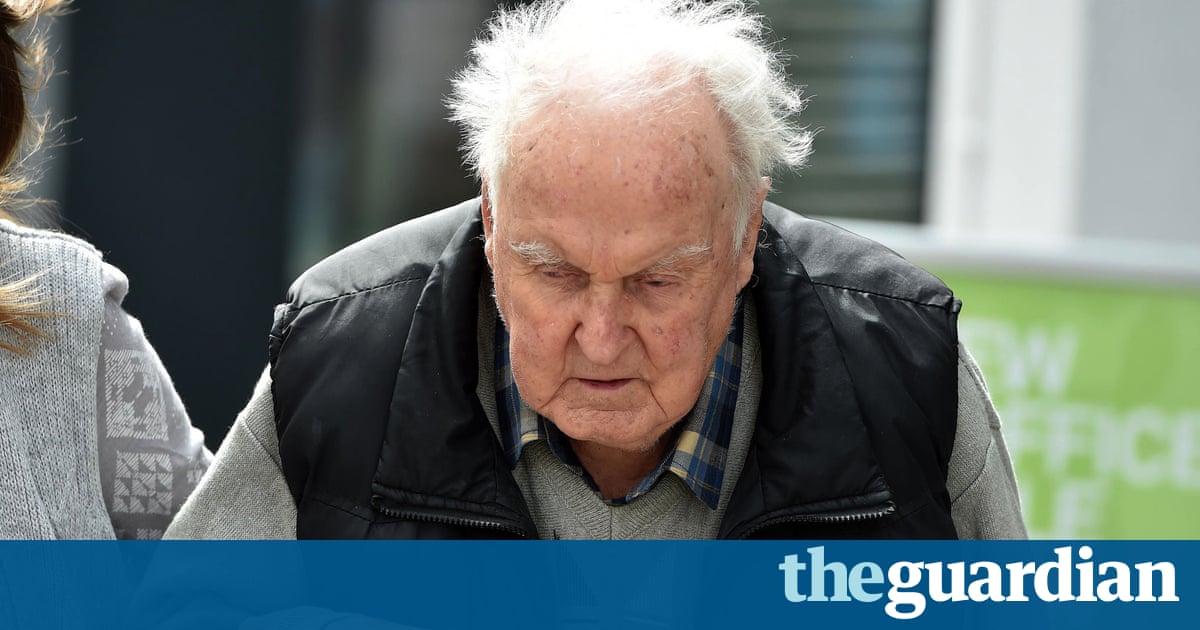 A great-grandfather who attempted to murder his wife in an act of mercy after she repeatedly begged him to end her life has been spared jail.

Denver Charles Beddows, 95, attempted to kill his wife of 65 years, who he described as the most beautiful woman in the world, with a lump hammer and ceramic pan.
Beddows, who ran a car body repair businesses for 40 years, carried out the act at the couples home in Warrington after his 88-year-old wife, Olive, pleaded with him to end her life so that she would not die in a care home.
Liverpool crown court heard that the fiercely independent couple had a perfect and happy marriage but both their physical and mental health suffered after Olive Beddows was involved in a car accident around nine months before the attack.
In the weeks preceding the incident the couples family said she had become increasingly anxious and had to be prescribed medication after her mental health was described as fragile.
Anya Horwood, prosecuting, said: She became increasingly apprehensive and claimed they are coming to get me. It would appear that the additional care required for Mrs Beddows was placing an additional strain on the defendant who resolutely refused the assistance of social services.
On the evening of 3 February the couples son and daughter-in-law went to the Beddows home to help them prepare for bed and found the couple in a confused state.
At 10.15 the next morning Beddows rang his son sounding distressed, and said: Ive tried to kill your mother. Beddows told him he had hit her with a hammer.
Their son, also named Denver, and his wife rushed to the house and found blood in the hallway and broken crockery.
The couple were sitting together on the bathroom floor with Beddows holding his wifes head on a pillow and mumbling in distress.
Olive Beddows was taken to hospital with multiple open skull fractures and injuries to her head and face.
Beddows was confused and shaking, telling police officers: My wife was going mad. I tried to kill her why didnt she die? I went to get the hammer from the garage. I couldnt stab her.
I wanted her to die and I havent managed to and now I have just increased her suffering.
Beddows, who was also taken to hospital, told staff his wife had begged him to kill her because she did not want to go to a hospital.
The pensioner who joined the RAF at 19, has had depression since 1962 and is now suffering from a form of post-traumatic amnesia said he had been working himself up to the attack for days but did not want to kill his wife in her sleep.
He told officers: Then I got to this morning and it was now or never. But I messed it up and she isnt dead. Shes the most beautiful woman in the world and Ive made it worse. I would happily be a murderer please tell me I killed her.
The judge was urged to suspend the inevitable prison sentence describing it as an act of mercy.
Philip Tully, defending, said Olive Beddows had repeatedly asked her husband to end her life, which he had refused to act upon until that day when he was in state of exhaustion and despair in relation to her health and well being.
Judge Clement Goldstone, QC, told Beddows who had been in custody since the incident that he would not be going to jail so as not to prolong your agony.
He said: Although this was a terrible crime the blame which attaches to you for what you did is far outweighed by the tragedy of the situation and the circumstances in which you found yourself.
You hit her out of bed with a pan and then subjected her to a repeated attack with a hammer in a determined effort to end her life for one reason and one reason alone she did not wish to end her days in a home or hospital where she believed that her deteriorating mental health was leading her.
You were under immense pressure in the days leading up to your attempt to kill her and your acts were acts of last resort because you failed to persuade her that she was going nowhere.
He said that he took into account that despite the severity of her injuries Olive Beddows was making a significant recovery, had forgiven her husband and wished to be reunited with him.
That is indeed true love no doubt earned by you over 65 years of devoted and loyal married life described by you as perfect and happy, the judge added.
Beddows, who was wearing a body warmer over his jumper, became visibly emotional during the proceedings, before saying: Thank you sir as he was led from the dock. He had pleaded guilty to attempting to murder his wife at their home in Warrington. He had been in custody since his arrest, having declined to apply for bail. He was given a two-year sentence suspended for two years.
The couples family said in a statement: As a family we are trying to come to terms with the tragic events that took place on 4 February. The last 12 months have been particularly difficult, as we all attempted to cope with mums mental illness, which is still yet to be diagnosed.
At present we are supporting both mum and dad.
Read more: https://www.theguardian.com/uk-news/2017/apr/25/denver-beddows-95-mercy-killing