Mike Pence reaffirms 'historical alliance' between US and Australia in Turnbull meeting
US vice president is expected to smooth relations between Washington and Canberra after Januarys strained phone call between Trump and Turnbull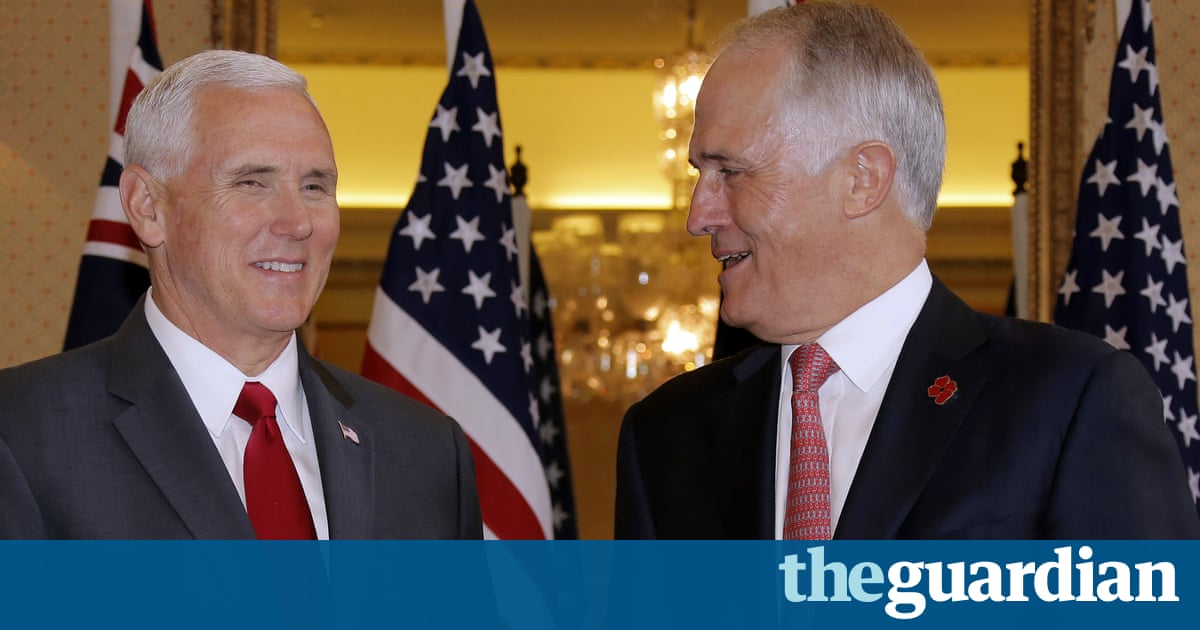 North Korea, the war in Syria and trade are all expected to be discussed during US vice president Mike Pences whirlwind weekend visit to Australia.
Americas second most powerful man met Malcolm Turnbull in Sydney and will meet senior government officials and business leaders later on Saturday.
Pence thanked Turnbull for his warm welcome to Australia and said he brought greetings from President Trump.
I spoke to him first thing and he wanted me to pass along his very best regards to you, and the President wanted me to, early in this administration, to re-affirm the strong and historical alliance between the United States and Australia, he said.
My presence here today at the Presidents direction it is about a reaffirmation of the strong ties in both our security and our prosperity.
Observers say Pence will use his time in Sydney to smooth relations between Washington and Canberra following Trumps opposition to Australias planned asylum-seeker deal during his infamous phone call with Turnbull in January.
Trump labelled the refugee resettlement deal, in which the US agreed to take an unspecified number of refugees from Australias offshore detention centres on Manus Island and Nauru, a dumb deal and described the refugees as illegal immigrants.
The vice presidents visit to Australia is part of a 10-day tour of the Asia Pacific, during which he has visited South Korea, Japan and Indonesia.
During his first official tour to the region, Pence has been keen to emphasise the commitment by the US to its alliances and partnerships in the region.
The truth is President Trumps election has created a need to reassure allies about Mr Trumps intentions, Lowy Institute executive director Michael Fullilove said.
Mr Pence is a traditional conservative Republican who has an alliance-centric view of the world and I think the purpose of his mission is to telegraph continuity to Japan and Korea, Australia and Indonesia.
The reason to do that is we have a president who for three decades has held to a very different world view, who has basically decried the global liberal order, whos shown himself to be hostile to free trade, someone who is sceptical of alliances and suspicious of institutions like the United Nations.
Read more: https://www.theguardian.com/us-news/2017/apr/22/mike-pence-to-meet-malcolm-turnbull-and-business-leaders-in-sydney