Sergio Garca shines at Masters to raise hopes of end to major drought
Sergio Garcas great talent was on display with birdies at Augustas first three holes in his second round: I want to make sure I keep riding that wave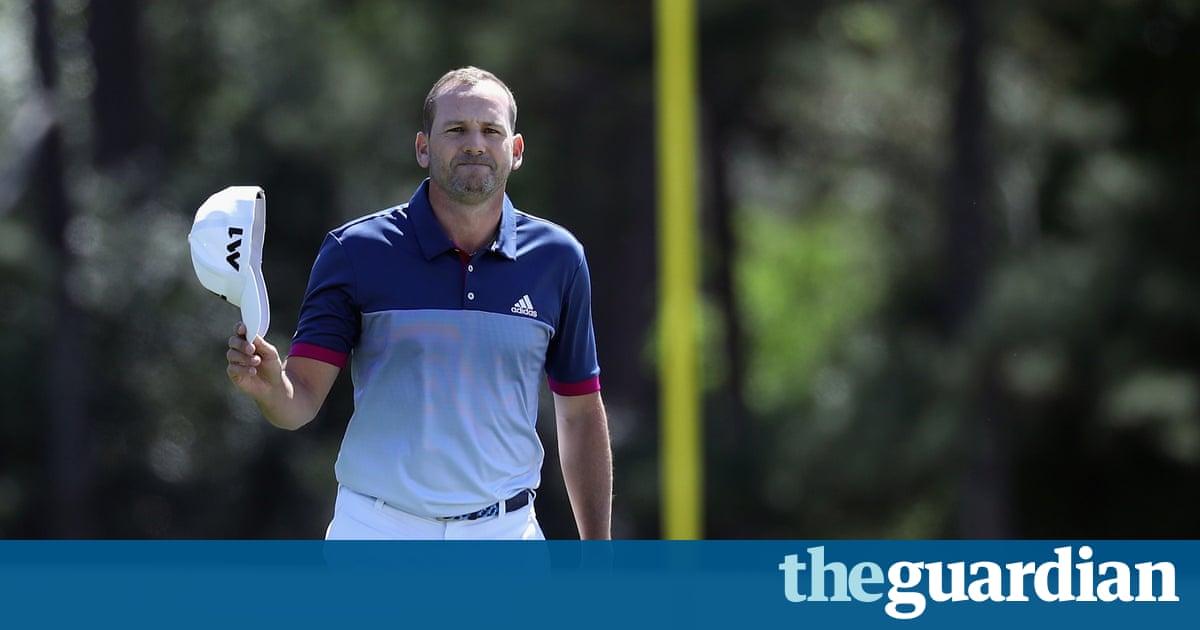 If the weight of experience lurking with intent did not pose such a threat, this Masters could be characterised as a weekend chase for major number one.
Charley Hoffman, Sergio Garca, Thomas Pieters and Rickie Fowler head the event at half way on four under par. At differing ages, positions in world ranking and career victory levels, their combined major haul? Zero. Hoffman is the surprise package, Pieters the surly young pretender, Garca the routine bridesmaid and Fowler the form horse. Cases can be made for each of them but, crucially, for another 25 competitors, too.
The cavalry in pursuit includes Phil Mickelson, Jordan Spieth, Rory McIlroy, Justin Rose and Adam Scott. The leaders are not likely to enter relaxation mode.
Garcas case, in his 71st consecutive major, is without question the most fascinating. The late, great Seve Ballesteros, who lit up Augusta National when claiming two Green Jackets and triggering a European stampede on the Masters, should be celebrating his 60th birthday on Sunday. If Garca, forever linked to Ballesteros not only on grounds of Spanish nationality but the level of mesmerising talent as demonstrated from his youth, were to prevail here, one of the great golf storylines of our time would have unfolded. The Masters does have a habit of throwing them up.
Garca returned a terrific run, of 21 opening tournament holes without dropping a shot. On Friday he birdied Augustas first three for the first time. At the 12th he conjured up a bunker shot from a plugged lie that he considered hands down, the best of my career. So far, so good.
One must, nonetheless, give strong consideration to an alternative outcome, the sort Garca has become ominously accustomed to. Garca has never made much secret of his indifference towards Augusta National as a venue despite, it must be stressed, always insisting he tries his best to win here. Essentially Garca believes the Augusta set-up means even good shots are occasionally not properly rewarded.
Matters seemed to be conspiring against him on Friday as a scoreboard error meant he was awarded a seven rather than the five he did produce at the 10th. The most important thing is I knew where I stood, he said. I knew I wasnt one under for the tournament, I knew I was three.
Shane Lowry hit two balls to the left and we were looking for one, we couldnt find it, we found the second one. We are all dressed light coloured pants and blue sweater, so I can see why they might have made the mistake. But it was fine.
The number was duly amended, Garcia later signing for 69. It should have been better but for a lame birdie attempt from all of 4ft on the 18th.
Further bad news arrives for Garca from a key statistic. His third-round scoring average at the Masters is the worst of anyone in three decades, at close to 75. Perhaps if he can get through Saturday, when conditions are predicted to be far more favourable than days one and two, even Garca himself will take his Augusta challenge seriously. Part of the intrigue around the 37-year-old is that, for one so gifted, he never appears fully confident in his own ability.
In a lot of these shots theres such a thin line between a good shot being next to the hole and a good shot being 40 feet away and then having a very difficult two putt, Garca explained. You try to not think about those and try to be as positive as possible.
Things are happening at the moment. I want to make sure that I keep riding that wave and go out there tomorrow and be positive, be like Ive been the first two days.
There is a parallel for Garca to draw on. Danny Willett, last years Masters champion, had claimed the Dubai Desert Classic two months earlier. It was Garca who lifted that trophy in the Middle East a matter of weeks ago. Garca is not carrying the Spanish flag alone. Jon Rahms outstanding 2017 shows no sign of slowing down, the PGA Tour rookie signing for a 70 to sit at one under par.
McIlroy was the victim of dreadful misfortune on the closing hole. An apparently perfect approach shot from 140 yards hit the pin, causing the ball to bound back down the fairway. McIlroy could understandably barely conceal his rage at making a bogey from there, meaning a 73 and plus one aggregate.
The Northern Irishman has not fully kicked into gear, a fact that should give him confidence given a position within touching distance of the lead with half of the Masters to play.
McIlroy has his mind set on a big Saturday move. Im a little disappointed with what happened at the last but these things happen and, if I can get off to a fast start tomorrow, a couple under through three, Ill be right there, he said.
There are still 36 more holes left to go, a long way in this tournament. I know what can happen, good and bad, around this golf course.
Willett was among those to encounter the negative, with a defence that ended on Friday at plus seven. A quadruple eight on the 1st fatally impacted on his cause.
A year ago Ian Woosnam insisted his Masters playing days were over on what marked the 25th anniversary of his victoryhere.
The Welshman, now 59, duly returned for 36 holes, his Friday 78 meaning a missed cut at 10 over par. My wife made me come back, Woosnam said. But will he or she do so again? I havent ruled it out. Wonderfully confusing.
Read more: https://www.theguardian.com/sport/2017/apr/07/masters-2017-sergio-garcia-birdies-augusta-golf